From the Manufacturer
The oustanding Tamron 18-270mm VC ultra zoom for APS-C format DSLRs has reached an astonishing new level of compactness, performance, and speed with the addition of PZD (Piezo Drive), an innovative ultrasonic autofocus motor based on an advanced piezoelectric design. The result is a lens that's light, and noticeably short and slim (filter diameter: 62mm), and provides fast, quiet auto-focusing. The following are the signature features that have made this amazingly versatile lens an ideal all-in-one solution for travelling photographers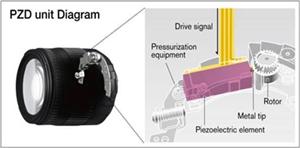 Piezo Silent Drive Mechanism
All new Piezo Silent Drive Mechanism (PZD)
The new PZD (Piezo Drive) piezoelectric drive marks another Tamron first in its autofocus SLR lenses, an internal standing wave ultrasonic motor system.
Innovations to reduce parts and simplify operation also contributed to the lensís reduced size and weight. Lighter and smaller than other autofocus drives, the piezoelectric drive uses a standing wave, instead of the traditional travelling wave, to turn and extend the piezoelectric element. Thus the entire element moves in a standing wave pattern, moving the metal tip (the contact surface) in an elliptic motion. The friction of this movement moves the rotor for a smooth, precise autofocus.
Ultrasonic motors are divided into two categories depending on the principle that generates the energy to move the drive: traveling wave motors and standing wave motors. Traveling wave motors include the ring type ultrasonic motor used in the recently launched 70-300mm F/4-5.6 VC USD as well as other lenses, but this lens with its newer technology, the PZD (Piezo Drive), functions on the standing wave principle. A standing wave ultrasonic motor utilizes high-frequency voltage to extend and turn the piezoelectric (piezoceramic) element, thus moving the entire element in a standing wave movement. The metal tip is the contact point of the element to the rotor, and moves in an elliptic motion from the swiveling motion of the moving element, and the friction from this motion turns the rotor. Standing wave ultrasonic motors have the distinct advantage of being smaller than their traveling wave counterparts, and therefore allow a more compact SLR lens size.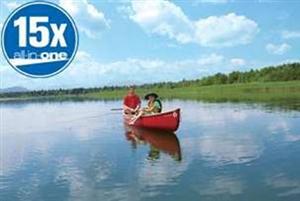 15x Zoom
Powerful 15x Zoom
This lens covers an extremely broad range of focal lengths, from an extra-wide 18mm length to a telephoto 270mm length (the 35mm equivalent of 28mm to 419mm). The resulting 15x zoom ratio is the world's largest, representing a wide cross section of Tamron high-power zoom design technologies. Additionally, the vibration compensation works throughout the entire zoom range, giving you the freedom to create a wide variety of images. The lens lets users capture once in a lifetime panoramic landscape images or close-up pictures of children smiling, all without getting too close to the subject or changing lenses. Other details include a macro magnification range of 1:3.5, a minimum focusing distance of 19.3 inches, and a 72mm filter diameter.
Di II
Tamron Di-II lenses are engineered expressly for digital SLR cameras with image sensors commonly referred to as APS-C, measuring approximately 24mm x 16mm. Rendering an ideal image circle for APS-C sensors, Di-II lenses are also include properties to optimize digital imaging performance. These lenses are not designed for conventional cameras and digital cameras with image sensors larger than 24mm x 16mm.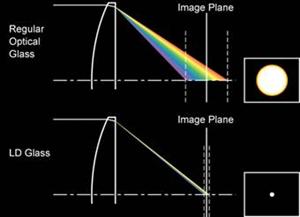 Low Dispersion Glass
Low Dispersion Glass (LD)
Low dispersion (LD) glass elements in a lens help reduce chromatic aberration, i.e. the tendency of light of different colours to come to different points of focus at the image plane. Chromatic aberration reduces the sharpness of an image, but glass with an extremely low dispersion index has less of a tendency to separate (defract) a ray of light into a rainbow of colours. This characteristic allows the lens designer to effectively compensate for chromatic aberration at the center of the field (on axis), a particular problem at long focal lengths (the telephoto end of the zoom range), and for lateral chromatic aberration (towards the edges of the field) that often occurs at short focal lengths (the wide-angle end of the zoom range.)
Internal Focusing System (IF)
Internal focusing provides numerous practical benefits to photographers, including a non-rotating front filter ring that facilitates the positioning of polarizing and graduated filters, and more predictable handling as the lens length does not change during focusing. Even more important, Tamronís Internal Focusing (IF) system provides a much closer minimum focusing distance (MFD) throughout its entire focusing range. In addition, IF improves optical performance by minimizing illumination loss at the corners of the image field, and helps to suppress other aberrations that become more troublesome at different focusing positions.
Zoom Lock (ZL)
Tamron's Zoom Lock (ZL) function is a simple convenience feature that prevents undesired extension of the lens barrel when carrying the camera/lens on a neck strap.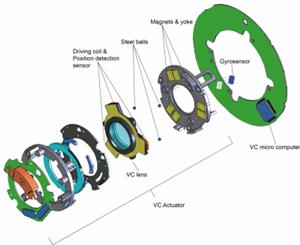 Vibration Compensation
Vibration Compensation (VC)
Tamronís celebrated VC (Vibration Compensation) just got even better.
It still offers great handheld and telephoto shots. It still delivers the excellent VC (Vibration Compensation) stable viewfinder image, and excellent traceability. Itís still based on a moving three-coil mechanism that activates the lens group electromagnetically through three steel balls. But technology must evolve. Previously, the heavy magnet was positioned near the lens element and worked very well in this placement. In the new VC (Vibration Compensation) mechanism, weíve reversed the positioning of the magnet and connected the lens to the coils. This innovative new position thus achieves less load on the drive and combined with lighter coils, contributes to a lighter, more efficient lens. Shake can ruin your photos, particularly when taking telephoto shots or shooting in low light conditions. Simply flip the VC switch on and you'll notice the difference immediately.
VC delivers blur free - handheld images for incredible results VC mechanism employs a three-coil system Lens element compensates for vibration using 3-steel balls (making movement quiet & smooth) Exceptional images at slower shutter speeds Ė reduces the need for a tripod Bring out contrast to motion & stillness Eliminate the need to shoot with a Flash††††††††
Anomalous Dispersion (AD)
Anomalous dispersion glass is a special type of optical glass that is used to achieve more precise control of chromatic aberrations, thereby enhancing overall imaging performance. Glass of this type provides an abnormally large partial dispersion ratio (amount of diffraction) for light of specific wavelength ranges (colours) within the visible spectrum. By combining AD glass having these special characteristics with elements made of normal glass having different dispersion characteristics, it is possible to control the dispersion factors of a specific wavelength. This enhanced level of control results in much lower levels of on-axis (central) chromatic aberration for telephoto lenses (or zooms used at tele-photo settings) and a significant reduction of lateral (peripheral) chromatic aberration for wide-angle lenses (or zooms used at wide-angle settings.)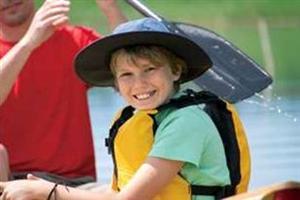 Zoomed In
Aspherical Lens Elements (ASL)
Tamron uses several hybrid Aspherical lens elements in many lenses bearing the Aspherical designation. These innovative optics allow us to achieve exceptional image quality, and at the same time produce lenses that offer remarkable zoom ranges in extraordinarily compact packages. By perfecting these cutting-edge advances for series production, Tamron has advanced the state of optical design, and virtually eliminated spherical aberration and image distortion from the high-power-zoom series. Through the effective application of Hybrid Aspherical Technology, one lens element can take the place of multiple elements without compromising performance. This is what allows us to produce remarkably compact long-range lenses that deliver a uniformly high level of image quality at all focal lengths and apertures.
Box Contents
Tamron
18-270mm VC PZD Lens
Lens hood
Dust cap
Lens cap