From the Manufacturer
From the makers of some of the world's finest optics, Viking introduce their professional lens cleaning kit. Using their 20+ years of experience in the optics and lens market, they have put together a specialist kit that includes tools designed to safely and thoroughly clean sensitive glass surfaces.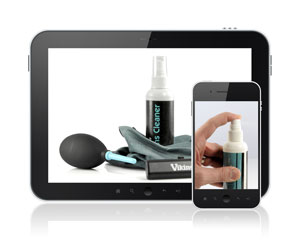 Ideal for use on a wide range of glass surfaces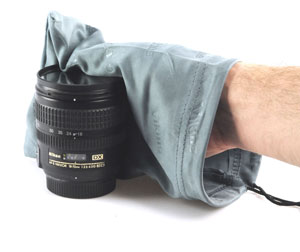 Innovative cleaning cloth / bag
Perfect for cleaning a wide range of glass surfaces
Cleaner Fluid
The first item included in the kit is a 100ml bottle of Viking lens cleaner fluid. This fluid contains water, alcohol and specialist surfactant enzymes which all work together to break down and emulsify films, dirt, grime as well as any other foreign contaminate that may have built up on a lens or glass surface. The cleaning fluid should last for several hundred generous applications. (We would never recommend spraying the fluid directly onto your intended surface but instead spray it onto the supplied cloth first and then apply. We do not recommend the use of this cleaning fluid on LCD screens.)
Micro Fibre Cleaning Cloth
The second included item is the Viking micro fibre cleaning cloth. The cloth is made from a micro fibre material which allows it to be rough enough to help break away the emulsified liquid (when used in conjunction with cleaning fluid) but at the same time smooth enough to wipe away smudges and grease, without harming a glass surface. The cleaning cloth is very large in size (20.5cm x 18cm) and actually doubles as a pouch which means you can innovatively put your hand inside it in order to firmly and efficiently clean your chosen surface. Another great feature of the cleaning cloth is that it can also be used as a carry pouch (with draw string seal) where you can store the other 3 items when not in use.
Cleaning Brush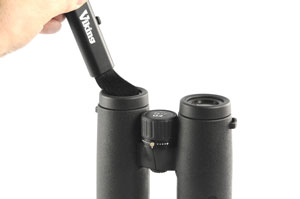 The brush makes it easy to remove
larger grit or dust particles
The third included item is a cleaning brush. This item is designed to help you gently remove larger and more stubborn foreign objects such as grit or dust particles from the chosen surface before you apply any fluid. The cleaning brush head is made from ultra soft and lightweight synthetic bristles, which are also retractable meaning it they can be kept protected and clean when not in use.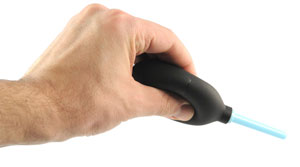 Air blower helps clears any hard to reach areas
Air Blower
The fourth and final item included in the Viking cleaning kit is an air blower. This item is designed to allow you to blow away larger items such as grit or dirt. It can be ideally used instead of the brush in situations where there are sharp objects (small stones) which if brushed or wiped could scratch the surface. Alternatively the air blower can also be used to clear particles from hard to reach areas of a device. The air blower is made from high quality rubber and is designed to consistently re-inflate automatically during use.
Uses
This Viking lens cleaning kit has endless application, although it is ideally suited for the cleaning and maintenance of any camera, binocular or general lens surface. It could also be used to clean the screen area on smart phones, tablets as well as any other screen that has a glass cover.