From the Manufacturer
Premium Quality
Viking presents their flag ship model the 10x42 ED S (special edition). These premium binoculars deliver one of the brightest, sharpest images on the market today. They feature extra low dispersion glass (ED) to ensure maximum light transmission when viewing in varying light conditions. They manage to encompass the finest balance between innovation, functionality and design, creating a truly fantastic viewing experience.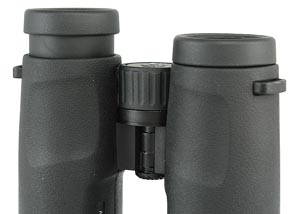 Ergonomic thumb rests
Ergonomic Design
Design was a key area of focus for Viking during the development of the special edition ED S. They incorporate an open hinge design with a narrow body (136mm x 129mm), meaning they are practical to hold even with one hand operation. The gently textured rubber wrap around body provides excellent grip regardless of the conditions required for use. Ergonomic thumb rests strategically placed underneath the body, make the binoculars comfortable and natural to hold even when viewing for long periods of time.
The body is fully rubber armoured to help protect the internal optics. The rubber armouring accommodates for a good degree of protection when using the binoculars in demanding terrain. There are twist up eye cups which offer varying levels of height, allowing uncompromised use of the binoculars even when wearing spectacles. Purpose built external lugs allow for the attachment of a neck (included) or wrist strap allowing for extra comfort during prolonged use. Finally, a dedicated tripod socket enables the binoculars to be attached (with use of an L mount) to any tripod if you should require steadier viewing.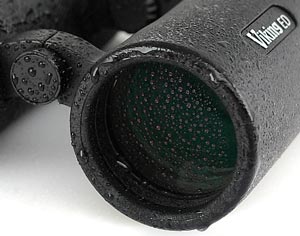 Oilphobic coating repels water and grime
Waterproof
One of the main functional features of the binocular is their Viking Oilphobic lens coatings. This type of coating helps the lenses to counter water, dirt and general grease build up. Due to the nature of the Oilphobic protective coating, cleaning and care of the lenses is especially easy as dirt and water find it difficult to settle and solidify on the lens surface and can therefore be easily wiped away.
Finally, the binoculars are 100% waterproof (field tested) and are nitrogen gas purged which prevents any level of internal fogging, making them excellent performers in damp or wet conditions.
Don't loose focus
A large, centrally positioned and grooved focus wheel allows for quick and easy access focusing, even when wearing gloves. The binoculars are constructed from an ultra light weight magnesium alloy, making them 30% lighter when compared with binoculars made from traditional alloys.
Another functional innovation built into the binoculars is their centrally located locking dioptre adjustment ring. The locking mechanism prevents any accidental adjustment of the dioptre.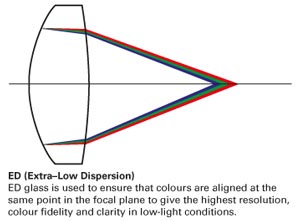 High Quality ED Glass
The other key functional feature of the binocular is their extra low dispersion ED glass. As a result of this specialist type of glass, light transmission has been proven to be significantly greater over more traditional types of lens glass. The ED glass gives a brighter and crisper image, especially when using the binoculars in poorly lit conditions. Furthermore, colour rendition and contrast is also greatly improved, giving the viewer a natural and lifelike image of their chosen subject.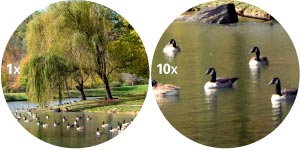 Demonstrating the difference between the
naked eye and the 10x magnification
Magnification
10x magnification, which enlarges a subject by 10x (see right), is the most popular level of magnification and combined with the 42mm objective lenses, gives the binocular the perfect equilibrium between magnification and light transmission. 10x magnification also provides a wide field of view (6.8 degrees) for fatigue free viewing.
Uses
These binoculars have a multitude of different applications and uses. For example, they are widely used by bird watchers and conservationists throughout the world, because of their optical quality and proven reliability.
At the same time due to their compact and light weight features, they would also make a perfect addition to any safari or adventure holiday, where portability and clarity are required. Thanks to their waterproof design, these binoculars would also be particularly suited for use in extremely wet or damp conditions such as onboard boats as well as in the rainforest.